In order to promote decomposition of wasted tires and wasted rubbers, wash and dry the pieces mentioned above, and then transport and insert into preheater to get recycled materials in good quality.
At same time, insert catalyst initiator into the catalyst initiator insertion hole in order to promote active decomposition.
Catalyst initiator should be continuously inserted until the first decomposition is executed. If first decomposition is executed, it will keep operating decomposition although you stop inserting catalyst initiator.
If you do not want to secure GAS generated since then, use it for heat source. GAS processed through condenser is stored at TANK as OIL.
CARBON BLACJ(C/B) and steel cores decomposed into original materials are separated through M/S, and then they are packed and stored for delivery.


1. Continuous low temperature decomposition is enabled.
2. Generated materials are restored to original materials.
3. It is quite competitive with its low operation expense and generated materials.
4. Since it uses GAS generated by itself, there is no burden for fuel expense.
5. Since it decomposes at low temperature, manufacturing expense is low and life cycle of the device is long.
6. No environmental pollution.
7. For foreign countries (United States, Thailand, Canada, Australia, EU countries and others), it is quite economical since their operation expense is higher than US$2.

Wasted Tires and Synthetic Rubbers
Waste tire cutting process at item 1 → Transport them to waste accumulator after washing
and drying procedure → Insert into main decomposition chamber
Fuel insertion in item 2, preheating process → Sublimation process is performed at main decomposition chamber → Separated gas is compressed and transported to concentration device in item 2, remaining CARBON BLACH and other solid state materials and steel cores are transported to separation process in item 3
Transport to storing tank after concentrating into oil at condenser and related device of item 2.

In item 3,
③ Steel core and CARBON BLACK separation process
④ Directly transport and pack after going through CARBON BLACK differential pulverizing process
| | | |
| --- | --- | --- |
| Waiting for delivery at oil storing tank | Steel → Store → Waiting for Delivery | Waiting for delivery after packing in certain unit |
| | | |
| --- | --- | --- |
| | | |
| Oil Delivery | Steel Delivery | CARBON BLACK Delivery |


No.

Item

Based on Tires of 50t in a Day

Wasted Rubbers 25ton
Tires 24ton

Generated Quantity

Amount (Won)

1

OIL (Annual Production)

6,000,000ℓ

2,220,000

2

CARBON BLACK (Annual Production)

4,200ton

924,000

3

STEEL

1,470ton

132,000

4

Wasted Tire Handling Expense

825,000 EA

412,500

150 Days

5

Wasted Rubber Handling Expense

7,500ton

1,050,000

150 Days

Total Annual Profit

4,738,500

Conversion Basis
Based on oil sales price of 1ℓ x 370 won

Based on oil generation amount of 400

ℓ

for tires of 1t

Based on CARBON BLACK generation amount of 280kg for tires of 1t, Based on sales price of 1t x 220,000 won

Based on steel generation amount of 98kg for tires of 1t and sales price of 1kg x 90 won

Based wasted tire handling expense for passenger cars of 500 won for each tire (based on the price in 1999)

Based on 110 EA for tires of 1T (average weight of 8.9kg)

Wasted rubber handling expense of \140,000/t


MICHENAE

ATR

OXFORD

CONRAD

ONODA CEMENT

ENERGECO

T.R. ENVIRONMENTAL TECHNOLOGY

Handling Method

Dried gas

Thermal decomposition

Incineration

Thermal decomposition

Incineration

Incineration

Thermal decomposition

Location

Japan

United States

United States

United States

Japan

Italia

Korea

Quantity of Tire Handling

200T/D

50T/D

300T/D

24T/D

72T/D

60T/D

50T/D

Operating Tem.

About 500℃

540~650℃

482~537℃

1,500~2,000℃

200~250℃

Gene
rated Mater
ials

OIL
GAS

STEEL

0.35kg/kgTIRE
0.6N㎡/kgTIRE
0.3kg/kgTIRE
0.1kg/kgTIRE

0.42kg/kgTIRE
0.44N㎡/kgTIRE
0.29kg/kgTIRE
0.1kg/kgTIRE

Electricity 300KW/H

0.35kg/kgTIRE
Electricity
5000KW/H
0.26kg/kgTIRE

STEAM:20T/H
(20KG)


400KG/H

Oil & gas or both
in option
0.25kg/kgTIRE
0.1kg/kgTIRE

Required Site

About 9,917.4m2

About 1,983.5m2

About 1,322.3m2

Operating Expense

Requires 55 operators

Requires 6 operators

5,000KW/H of electricity and 11 operators are required

Requires 5 operators

Tire Handling Investment by TON/D

121 million won(T/D)

136 million won(T/D)

283 million won (T/D)

146 million won (T/D)

213 million won(T/D)

100 million won (T/D)

Characteristics
of Process

Use whole tiresLow operation expenseLONE SELF-COOLINGSYSTEMFine heat efficacy as a vertical furnace

Requires tire cutting device (increase expense for power)Requires too much operation expense Requires upgraded facility for CARBON

User tires Requires great amount of investment for pollution preventing facility STOKERincinerator type Requires too much operation expenseIncineration process for handling tires is prohibited by domestic environmental regulations

Requires tire cutting deviceInstalls large PLANTNo sales recordGenerating power with STEAM is possible

Substitute 15% of fuel with wasted tires Use whole tires Requires no pollution preventing facility Using large tires is possible Because of efficacy value difference of soft coal alternative furnace, performance level is low

ROTARYKLIN typePrice is high and overall facility efficacy rate is low Impossible to install single large plant Not allowed by environmental regulations

Includes cutting device Low operation expense Simple facility Secondary pollution preventing device is not necessary Decomposes to original materials by applying new principles

Technical Reliability

Highly reliable

Highly reliable

Highly reliable

Technology in distribution stage

Highly reliable

Highly reliable

Decomposition to original materials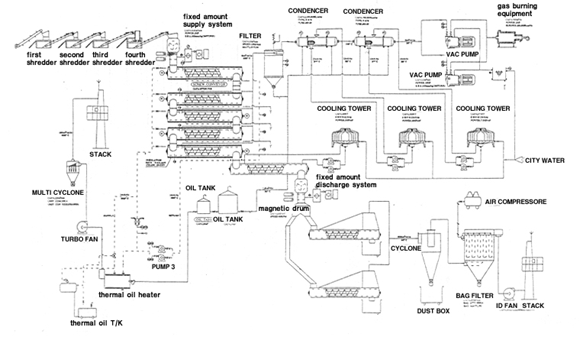 Click above picture for bigger image.